Writer/Filmmaker Kevin Toolis upcoming Mayo Talks
5 February 2018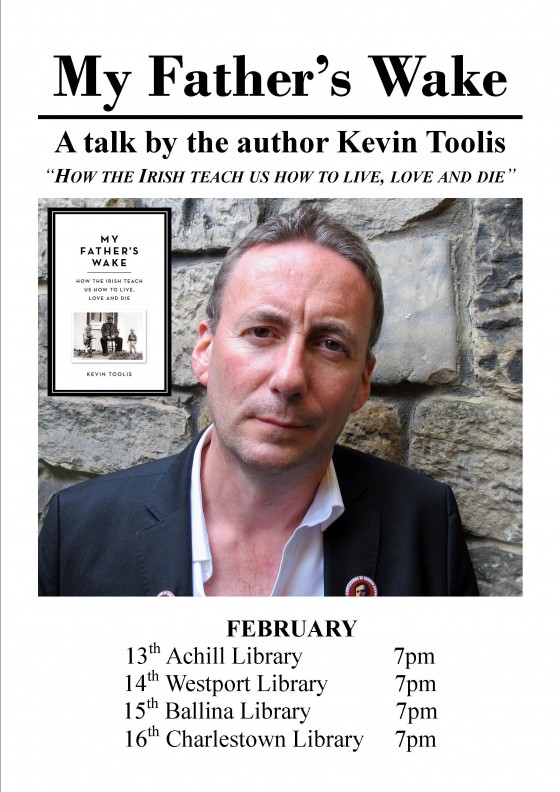 Kevin Toolis is a writer and filmmaker. His latest book My Father's Wake: How the Irish Teach us to Live, Love and Die has just been published and is available in all local bookshops.
Kevin will be giving a talk on his latest book in Achill Library on Tuesday February 13th at 7pm, in Westport Library on Wednesday February 14th at 7pm, Ballina Library on Thursday the 15th at 7pm and Charlestown Library on Friday 16th February at 7pm.
For twenty years writer and filmmaker Kevin Toolis hunted death in famine, war and plague across the world before finding the answer to his quest on the island of his forebears. In this beautifully written and highly original memoir, he gives an intimate, eye-witness account of the death and wake of his father, and explores the wider history of the Irish Wake. With an uplifting, positive message at its heart, My Father's Wake celebrates the spiritual depth of the Irish Wake and shows how we too can find a better way to deal with our mortality, by living and loving in the acceptance of death.
He is also the author of an acclaimed chronicle of Ireland's Troubles, Rebel Hearts: Journeys Within the IRA's Soul. He is an acknowledged terrorism expert and has studied and reported on conflicts in Africa, Ireland and the Middle East. As a filmmaker Kevin has won a BAFTA for Best Single Drama and was nominated for an Emmy for his documentaries on the Middle East, The Cult of the Suicide Bomber. He is also the playwright of the London West End political satire The Confessions of Gordon Brown.
For more information on the talks call Westport Library on 098 25747.