Underground Films Knock Documentary in cinemas August 26th
10 August 2016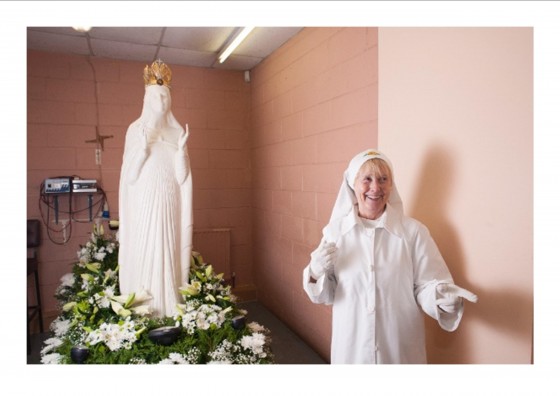 New Irish feature documentary from Underground Films, Strange Occurrences in a small Irish village to open in Irish cinemas Friday, August 26th
An examination of the phenomenon of the Knock shrine, the film comes from the filmmakers behind award-winning One Million Dubliners.
In August 1879 fifteen people in the small village of Knock, Co Mayo, claimed to witness an apparition of the Virgin Mary. After two official inquiries, the village was declared a Marian Shrine. Today, Knock's 2,000 residents welcome over one million pilgrims annually.
Directed by Aoife Kelleher, Strange Occurrences in a small Irish village opens in Irish cinemas on Friday, August 26th. The film's title is derived from the international press coverage at the time.
The film develops a fascinating, vibrant portrait of the phenomenon by examining the vast patchwork of individuals and groups involved – invalids seeking miraculous cures; the sibling owners of rival religious merchandise shops; Knock local, Mildred who is determined to secure a more prominent role for the shrine's Handmaids; the intriguing staff of the Knock Marriage Bureau, and their traditional matchmaking skills responsible for 1,000 weddings and counting; and Fr Richard Gibbons, charming and ambitious Parish Priest, committed to enticing new US visitors via Knock Airport.
The film presents a balanced opportunity for believers to celebrate the phenomenon and those who facilitate its ongoing success, while for sceptics it allows a fascinating glance into the thriving world, and business, of Ireland's Marian Shrine.
Director Aoife Kelleher commented, "It's very important that every generation interrogate the stories that are passed down to them, and look at them afresh, and decide for themselves whether they should be embraced and preserved or discarded. The story itself is so fantastic that you completely want to get to the bottom of it. You want to know what it is that they saw and how it was spoken about at the time."
Kelleher continues "It's a documentary about religion rather than a religious documentary. At the very heart of Knock is this story about an apparition, but in making the documentary we wanted to look at the apparition in its social context and its historical context."
Strange Occurrences in a small Irish village is an Underground Films production in association with RTÉ and the Broadcasting Authority of Ireland in association with Shoot for the Moon and in association with Bord Scannán na hÉireann / The Irish Film Board.
The film is released in Irish cinemas on Friday, August 26th.
For further information visit www.undergroundfilms.ie.
For distribution / screening enquiries email info@undergroundfilms.ie
"A thoughtful meditation on Ireland, religion & community. Nuanced exploration of both miracles, & Ireland's evolution. Thought-provoking & reflective" ★★★★
Roe McDermott, Hot Press
"A fascinating film about an extraordinary story"
Gordon Hayden, Spin 103.8fm
"Respectful and warm-hearted, Strange Occurrences In A Small Irish Village is a refreshingly uncynical look at the visions at Knock as the shrine seeks to stay relevant in a more secular society. The faithful and non-believers may draw different conclusions… there is much to enjoy here either way."
Philip Nolan in Irish Daily Mail