Swinford represented on The Taste of Success tonight.
8 November 2016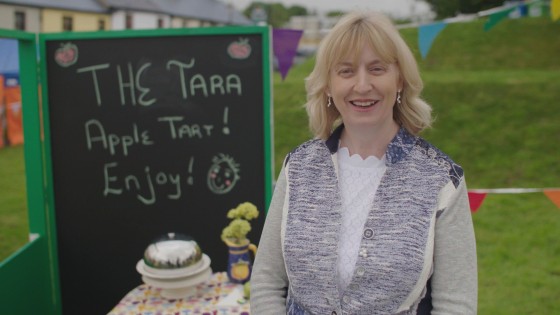 The Taste of Success, with a €100,000 prize sponsored by Lidl Ireland, continues with last year's winning mentor JP McMahon taking charge at the Connaught/Ulster roadshow in Westport.
The Taste of Success, Episode 3 of 8, RTÉ One, Tuesday November 8th at 8.30pm
On the third episode of The Taste of Success, hosted by Dáithí Ó Sé, we meet:
Fiona Ryan from Swinford in Mayo is a café owner who hopes her family recipe for apple tart can earn her a crust.
Evelyn and Emma McBurney, from Banbridge Co. Down. This mother-daughter duo are hoping to kick-start their own confectionary company and become the McBurney Biscuit Barons of Banbridge.
English woman Michelle Kilkenny from Doughiska, Co. Galway, is a professional chef who is hoping to impress with her 'Paddy Pie'.
Conor Doherty from Ballymote, Co. Sligo is aiming to impress JP with his novel use of poitin in his BBQ sauce…
and
Family man Malachy Canning from Letterkenny,Co. Donegal, hopes his steak burger will beef up his chances of getting into the next round.
The competition is tough as all five contestants show their wares but only two will go through to the next round. Who will be in line to win The Taste of Success?
JP McMahon
JP McMahon is a chef, restaurateur and author. He is culinary director of the Eat Galway Restaurant Group, which comprises of Michelin-starred Aniar Restaurant, award-winning Spanish restaurant Cava Bodega, and Eat Gastropub, which has inspired his next cookbook Gastropub Revolution. He also runs the Aniar Boutique Cookery School. JP is committed to the educational and ethical aspects of food, to buying and supporting the best of local and free-range produce, and engaging directly with farmers and producers. JP is the founder, and plays host to, one of the biggest and most talked about international food events in Europe, Food On The Edge. JP won The Taste of Success 2015 with Joanne Clarke and her Nutty Brioche and Butter Pudding.
Series Overview
Series Three of RTÉ One's hugely successful The Taste of Success hits our screens and with another food entrepreneur in line to win a prize worth €100,000.
Expect highs and lows as 20 contestants from across the country go head-to-head to get their hands on that life changing prize, not to mention the joy at seeing their unique food product on the shelves of 140 Lidl stores nationwide.
Presenter Dáithí Ó Sé once again travels the length and breadth of Ireland in search of the next winner of The Taste of Success and there's a stellar line up of TV culinary talent to judge, help and mentor the contestants who hail from all over the country for this 8 part series which starts on RTÉ OneonOctober 25th at 8.30pm.
Dáithí Ó Sé said: "I'm thrilled The Taste of Success is returning for a third series. I didn't think the standard of food we got last year could be bettered, but I was wrong! We've got some new ideas this year that will make the show extra special. We have a few surprises and even a dish that I thought could have won the competition that didn't even make it through the roadshow stage".
This year two new faces join The Taste of Success family to mentor our contestants.
Model Roz Purcell will be known for her extremely popular food blog 'Natural Born Feeder' and best-selling cookbook of the same name. Roz is taking on the challenge of attempting to get a Leinster applicant into the winner's circle. Roz doesn't advocate one diet over another but does insist on only using whole foods in all she does – so this may affect her choices at the Leinster roadshow.
New Munster mentor Eunice Power has garnered a reputation for being the best gourmet caterer in the country. Based in Dungarvan in Waterford, Eunice has operated her extremely successful catering business for over 15 years and cites the 3 arena as one of her many clients. Eunice has catered for all the top names both domestically and internationally. She has a particular fondness for baking and breads so this may influence her choices on the roadshows.
Last year's winning mentor – Michelin starred restaurateur JP McMahon returns to defend his title and once again mentor the Connaught/Ulster region. Can JP repeat the feat and for a second time bring home the bacon?
JP McMahon said: "I really enjoyed my first stint on The Taste of Success so much last year. It might be largely due to the fact that I mentored the winning dish! Working with Joanne Clarke and seeing the difference winning the show has made to her life is remarkable. The other regions will be gunning for me now, as I'm the reigning champion, because this year, I want to do the double!"
Culinary author and food entrepreneur Domini Kemp is once again the Dublin mentor. Domini has reached the final in each of the last 2 series and hopes to go on and finally win it this year!
This year the mentors have chosen the top 20 dishes from all around the country. All types of cooking and baking are represented this year. From traditional Irish soda breads, to a Tex–Mex Irish enchilada. We have an 'inside out' burger competing against baby food and a contestant who attempts to hide a vegan sausage from Dáithí, so there is something for everyone.
In the first four rounds our mentors will select their favourites to carry on in the competition and then help them hone their product as they prepare to face the Lidl judges who will ultimately select the series winner.