Spot Mayo locations during 'Aerial Ireland' which airs Monday 9th January at 9pm on be3.
5 January 2017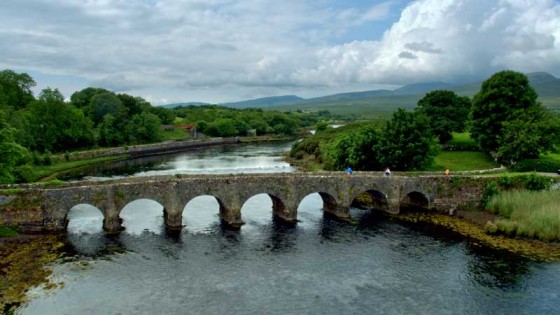 Aerial Ireland is a fascinating and revealing story of Ireland: its geology, natural terrain, human history and built environment as seen from the air.
The stunning beauty of Mayo features during the programme, locations in Mayo include Croagh Patrick, The Deserted Village - Achill, Ashford Castle, Cong village, The Greenway, Rockfield Castle and the Neolithic Ceide Fields.
Beautifully narrated, using stunning drone aerial photography, this documentary presents viewers with a spectacular overview of the multifaceted complexity of our incredibly diverse, beautiful and historically significant island. Aerial Ireland presents the island of Ireland as never seen before - an unparalledled flight form geological and natural prehistory through 12,000 years of human habitation on the unique gem of Western Europe.
Originally directed and produced for the Smithsonian Channel USA by award winning filmmaker Stephen Rooke of Tile Films (Waterways, Saving the Titanic), the premiere of 'Aerial Ireland' will air as a landmark programme to celebrate the launch of TV3 Group's newest channel.
'Aerial Ireland' airs on Monday 9th January at 9pm on be3.
be3 will be available on channel 106 on Virgin Media, channel 116 on Sky, channel 106 on Saorview, channel 108 on Eir's eVision and channel 106 on Vodafone.
Narrator: Venetia Quick
Producer/Director: Stephen Rooke
Writer: Niall Murphy
Editor: Mairead McIvor
Lighting Cameraman: Colm Hogan
Composer: Giles Packham