RTÉ Entertainment seeks proposal for panel show
7 January 2016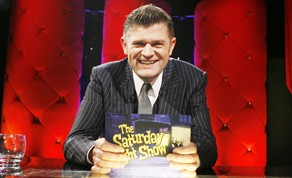 RTÉ Entertainment is seeking proposals from suitably experienced production companies for a topical panel show in which Brendan O'Connor and a panel of regular guests take a wry, provocative and thoroughly entertaining look at the week's news and events.
The show will be 16 x 52 minutes and is scheduled to air on Wednesday at 9.30pm from May 2016. The budget will be €70,000 per hour excluding presenter fee.
RTÉ say that the show should harness Brendan's strengths as a columnist, opinion former and agent provocateur.
A live show, in front of a studio audience, the studio should be a fun, playful space where the rules are different, surprises happen and the audience is guaranteed something different.
Getting away from the "presenter behind a desk" format it might be filmed either in the round, (with audiences surrounding Brendan and the panel), using the green room and back stage areas to create a relaxed, off-the-cuff, cafe/pub vibe.
RTÉ suggest that the key weekly segments might be:
Studio Panel with 2/3 returning guests, (from a panel of 7/8)
1 x Weekly Studio Guest
VT Inserts
A number of Studio Based Items
Weekly Competition
Audience interaction through Facebook/Twitter/Periscope
Proposals should identify the confirmed key production personnel of Producer, Director and writers. RTÉ state that they are seeking proposals only from companies with a strong proven track record in making high end studio based programmes.
They ask, in the first instance, that producers submit ideas into the eCommissioning system: https://e-commissioning.rte.ie/SWIFT.Web/skins/rte/login.aspx under the programme category "Entertainment Wednesday 21.30 – May 2016".
The deadline for receipt of submissions is 12 noon Friday January 29th.
From IFTN website: http://www.iftn.ie/news/?act1=record&only=1&aid=73&rid=4288877&tpl=archnews&force=1&utm_content=buffer3c4c8&utm_medium=social&utm_source=twitter.com&utm_campaign=buffer