Return of kids TV show Living with a Fairy
31 October 2019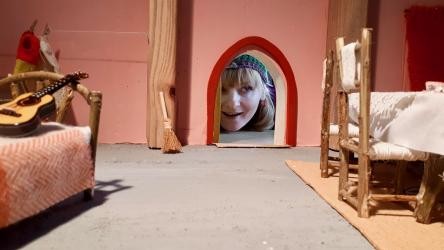 Monday 4th November sees the return of the very popular kids tv show Living with a Fairy for a second series.
The Fairy has been living with Jay for over a year now and they seem to be getting on well. However the Fairy can't help but play tricks on Jay for fun.
In this second series of the storytelling drama, Jay decides to bring Fairy out and about and they visit Mr Nugent's shop where time literally freezes and to the Foxford Brass band who get the benefit of the Fairy's magic when they are missing their composer. Fairy brings Jay on a magical adventure to her home Fairy village where Jay almost becomes a Fairy himself.
Cousin Niamh ends up moving in and once she finds out about Fairy they become the best of friends. Theres lots of fun adventures all round and they even go on a Trip to the Movies.
Filmed around North Mayo in July 2019 Living with a Fairy was produced by G Marsh TV (Wildkids, Our Farm, Living the Wildlife) and stars the shows creator Jay Ryan and Niamh McGrath who also co wrote the series with Ballina based Cameraman Andy Smyth. The series was directed by Trevor Laffey (Ros Na Run, Redrock) with the majority of the crew based along the west coast of Ireland from Galway to Donegal.
The magical drama series will broadcast on RTE Jnr at 9.35 am and 15.20 Monday to Friday starting on Monday 4th Nov.