Mayo's GMarshTV's The Pet Surgeons screens tonight on RTÉ One
6 September 2016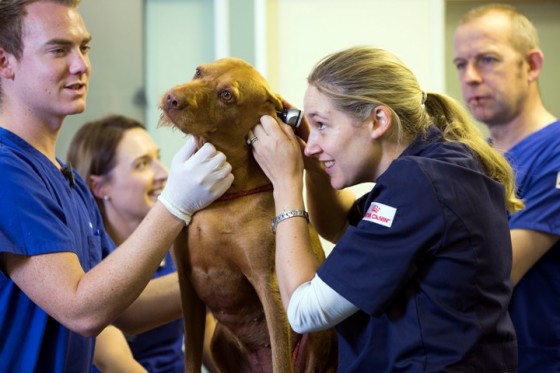 THE PET SURGEONS is a brand-new RTÉ series that goes behind the scenes at one of Ireland leading veterinary practices, revealing the emotional owners, sick animals and dedicated vets who go to any lengths to make them better. Our pets are our guards, our guides and our unconditional loving companions. And so when things go wrong, we as owners are prepared to do whatever we can to make things right.
With top vets Tom Conway, Shane Guerin and Pat O' Doherty at the helm. Gilabbey Veterinary Hospital in Cork has a uniquely talented and caring team of over 30 specialist vets and nurses. At Gilabbey, every day is a new challenge for the vets who investigate, diagnose, operate on and rehabilitate a range of animals from tiny kittens to bearded dragons and everything in between.
In this engaging series, GMarshTV - makers of 'Vets on Call' - goes behind the scenes to see how the vets use state of the art technology to perform complicated operations, repair fractures and apply the latest treatments from physiotherapy and spinal realignment to chemo.
Dealing with the diverse personalities of the pets and their owners is all in a day's work at this busy hospital. With clients and patients arriving daily from all over the country, the staff never know who or what will come through the door next – a litter of feisty pups in need of micro-chipping, an exhausted homing pigeon that's lost its way, a tiny Japanese Chin dog with a fractured spine or an anorexic cheetah from Fota Wildlife Park.
In the course of the series, each story is related from the perspective of both the owners and the veterinary staff. We'll see the animals at home before and after treatment, we'll observe over the vets shoulders as they perform the most demanding surgical procedures and we'll meet a team of nurses so passionate about their work that they're prepared to take their patients home with them.
There will be moments of joy as fraught owners receive good news about their pets' prospects, but also moments of tragedy, as it becomes clear that, despite the best available care, nothing can be done to save them.
Starting on September 6th at 20:30 on RTÉ One, THE PET SURGEONS is life in an animal hospital as you've never seen it before – must see TV for anyone who's ever loved a pet.
THE PET SURGEONS EPISODE 1 - SYNOPSIS
In the opening episode, vet Shane is presented with four month old Noodle by his anxious owner Katherine. The tiny Japanese Chin pup has received a complex spinal fracture in a playtime collision with his sister Doodle. In order to save the pup's life, Shane and fellow vet Tom, attempt an extremely difficult procedure – inserting six tiny pins into the pup's miniscule neck vertebrae. Meanwhile vet Kathryn's Labrador Sadie comes in for neutering – an operation her owner is too emotionally fraught to perform herself. Will Noodle survive an operation that even the vets are tentative about performing? Will Kathryn be able to stay away as her beloved pet is handed over to colleague Tom?