Mayo features heavily in GMarsh TV Wildkids
7 November 2018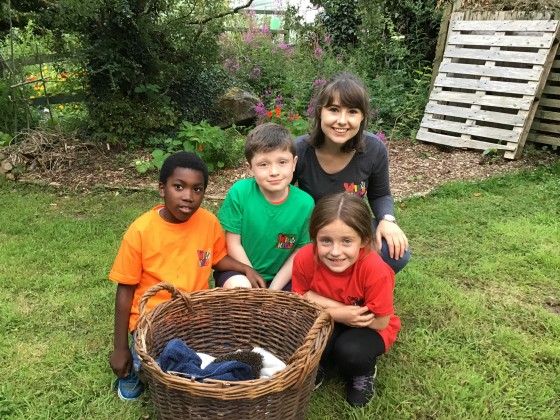 Mayo features heavily in brand-new RTEjr television series "Wild Kids" which follows passionate wildlife warriors –Kealan Doyle, Ciara Dolan, Sarah Sarsfield and John Lusby as they travel the length and breadth of the country showing us the nature that is right under our nose – we just need to know where to look for it!
In four our episodes the presenters are joined by local children: Cian Coggins, Bridie and Caitlin Gough (ep3) Bridie Gough, Jeffrey Carey and Samuel Bobbeykai (ep7) Annie Fleming, Brandon Newman and Alex Bourke-Ginty (ep13) and Kayla Bobbeykai, Maya Bensen and Eoin Floyd (ep14).
These are aired on - Tuesday 6th November, Wednesday 7th of November, Tuesday 13th November and Wednesday 21st November, 11:45 & 14:55 DAILY.
Ep3. BADGERS – TX Wednesday 7th November.
One of Ireland's most secretive animals, badgers can be tricky to spot as they only
come out after dark. In this episode, John teaches Wild Kids Bridie, Caitlin and Cian
some detective skills to find the badger's home underground while Sarah takes them on
a hunt around the forest to look for the different creatures that badgers like to eat.
Ep4. HERONS – TX Thursday 8th November
Irish rivers are home to a range of wildlife and this week, Wild Kids Ryan, Keelin and
Megan learn all about the Heron – a common Irish bird with a razor-sharp beak and
keen eyesight. Sarah gives them clues to discover a heron's hunting ground and Kealan
shows them how to find all the juicy little fish and frogs that herons feed on.
Ep5. SANDY SHORE – TX Friday 9th November
It's the height of summer and Wild Kids Mia, Roxanne and Alex join
presenters Kealan and Ciara to explore the sea, sand and rocky shoreline
discovering disappearing shrimp, lugworms, hermit crabs and flatfish.
Ep6. BARN OWLS – TX Monday 12th November
In this episode, Wild Kids Ava, Elizabeth and Andrew team up with Ciara and John to
learn all about barn owls that live in ruined castles all over the Irish countryside. With
Ciara, they examine pellets to discover the bones of all the shrews, voles and other
little creatures an owl likes to eat while John shows them some gorgeous baby owl
chicks.
Ep7. GARDEN BIRDS – TX Tuesday 13th November
Buzzing with birds, bees, butterflies, insects, hedgehogs and other animals, our
gardens are the perfect place to look for wildlife right under our nose! John shows
the Wild Kids Bridie, Jeffrey and Samuel how to make fat balls to attract birds into
their garden and Sarah uses a print tunnel to reveal the secret animals that hide in
the garden at night.
Ep8. SAND DUNES – TX Wednesday 14th November
In Ireland, our seashore and sand dunes are full of wild surprises. With Ciara, the Wild
Kids Jemma, Jess and Sonny find lots of moths, butterflies and hungry caterpillars
among the marram grass while on the seashore, Kealan shows them how to find baby
shark eggs disguised as something magical – a mermaid's purse.
Ep9. CITY WATERWAYS – TX Thursday 15th November
City waterways and canals are home to a host of hidden wildlife. In this episode of
Wild Kids, Oisín, Camellia and Victoria find a swan and her baby cygnets with
Ciara while John shows them how to use nets to see who lives underneath the
surface of the water.
Ep10. ROCKY SHORE – TX Friday 16th November
It might not look like it at first, but Irish rock pools are teeming with life from sea
stars and barnacles to limpets and crabs. Follow Kealan, Ciara and Wild Kids Mia,
Roxanne and Alex as they discover that this habitat is just like a warzone - everyone
wants to eat each other!
Ep11. THE PARK – TX Monday 19th November
Irish parks are full of life. There's ponds, woodlands and meadows and all kinds of
interesting creatures to be found. Loads of birds live on top of the water, but so
many things are living under the surface - all trying to eat each other! Kealan, Sarah
and Wild Kids Keelin, Meaghan and Ryan go on a hunt for the moorhen and get
come nose to nose with some water boatman insects and pond skaters.
Ep 12. BATS – TX Tuesday 20th November
Night time throws up all kinds of interesting wildlife, animals and insects. This week,
Wild Kids Bodbh, Kayleigh and Faye search for the lesser horseshoe bat with John
and watch as it darts out at night to feed. And Sarah takes them to look for one of the
bats favourite food – moths, that come in all shapes and sizes.
Ep13. WOODLANDS – TX Wednesday 21st November
Home to all kinds of animals, plants and insects, Irish woodlands are a great place to
explore and investigate. This week, John, Ciara and Wild Kids Brandon, Alex and
Annie learn all about supporting our native Irish trees and the wildlife that inhabit
them – including a friendly native Irish red squirrel!
Ep14. SEALS – TX Thursday 22nd November
Common seals are often found on the sandy banks of an estuary – a place where
the river meets the sea. In this episode, Kealan, Sarah and Wild Kids Maya, Kayla
and Eoin creep up to where the seals sleep and even inspect their poo. And when
the tide goes out, they discover a hidden world of cockles, mussels, shrimp and
shellfish.
Ep15. DEER & FOXES – TX Friday 23rd November
Urban areas are home to all sorts of wildlife. In the Phoenix Park in Dublin, John
leads Wild Kids, Sophia and Thadgh on a hunt for clues to find wild deer; they learn
how to search for deer hair on a bush and track deer footprints. Meanwhile a fox
has made a cosy home for herself and her cubs in a city back garden.