The Long Wet Grass Update
9 August 2019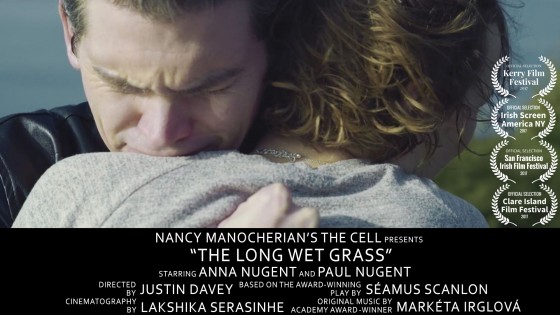 The Long Wet Grass short film is set at Callow Lake (on the road between Swinford and Foxford) and is based on a prize winning story and a play of the same name.
The film, directed by Justin Davey and filmed by Lakshika Serasinhe (Galway), had its premiere at the great Clare Island Film Festival (runs this year 6 to 8 Sep, 2019) curated by Cora Keating and Bjorn Mac Giolla.
Scanlon attended the premiere and was involved with a lively Q&A. The film has since played at a wide variety of festivals in San Francisco, New York, Berlin, Cork, Kerry, Bucharest, West Chester and Jersey City. The film has not been shown on the Mayo 'Mainland' to date, but we hope to rectify that. A new edit of the film is also underway to try and clarify some scenes so the 2019 cut will be available soon.
The author spent his summer holidays from Galway near Callow Lake, Cullneachtain, Toomore and Renbrack. His mother May McGowan was from Renbrack and went to Callow School (since demolished). To Scanlon, Callow Lake and its environs is a place of solace after the trauma of Galway! For him the name 'callow' also has a powerful poetic resonance on many levels.
The Long Wet Grass film was shot near Pontoon in October 2016 over four days. Through some miracle it only rained on one day. The film locations were all outside using natural light only which is hazardous enough on a restricted shooting schedule. The music is provided by Academy Award winner Marketa Irglova (Once) who wrote and performed three new songs for the film.
All the crew were from Mayo including Fintan Geraghty (Castlebar), Emer Gannon, Maria Ni Ghiollain and Robert Moran (Westport) and Tommy Stenson (Swinford). Special thanks to Carol Beheler Redding, Pat Redding, Vera McEvey and Pamela Norrington who was the project manager on the ground. Film Mayo were also very helpful and a great resource. Two local children used for the flash back sequences Aine Thompson and Patrick Hyland and were terrific.
The film was a co-production of The Cell Theater (New York), Anna Nugent (Dublin) and Victor Productions (Galway). Anna stars in the film with her husband Paul who were in the original drama production in New York. She was critical in getting the film made.
Reviews:
"The Long Wet Grass" is visually and aurally captivating, using the natural beauty of the Mayo landscape and Marketa Irglova's haunting, lyrical music to frame a gripping tale of the irresolvability of personal and political histories. Scanlon's script fluidly shifts among perspectives and time periods, free of cliché and caricature." - Dr. Mary McGlynn (Associate Professor of English, Baruch College, CUNY, and chair of the Columbia University Seminar for Irish Studies).
"I love the flashbacks to their childhood and the sense of history – and love – between the characters." - Christian O'Reilly (Sanctuary, The Good Father, Chapatti)
More reviews at http://thelongwetgrass.com/reviews/
The Long Wet Grass is part of The McGowan Trilogy which sold out in Tokyo in July 2018.
Seamus Scanlon is the librarian at City College Downtown's Center for Worker Education in New York.