Knock Documentary, 'Strange Occurrences in a small Irish village' out now on DVD.
14 November 2016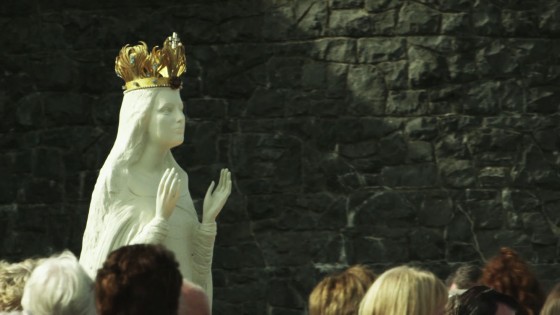 New Irish feature documentary from Underground Films, 'Strange Occurrences in a small Irish village' out now on DVD.
An examination of the phenomenon of the Knock Shrine, the film comes from the team behind award-winning film 'One MillionDubliners'.

In August 1879, fifteen people in the small village of Knock, County Mayo, claimed to witnessan apparition of the Virgin Mary. After two official inquiries, the village was declared a Marian Shrine. Today, Knock's 2,000 residents welcome over one million pilgrims annually.

Directed by Aoife Kelleher, the film's title is derived from the international press coverage at the time.
In the film, we meet people with compelling stories –invalids seeking cures; the eight sibling owners of rival religious merchandiseshops; a woman relieved of multiple sclerosis during a 1970s pilgrimage; feisty Mildred, advocate for gender parity for the shrine's handmaids; and the staff of the Knock Marriage Bureau, the matchmakers behind one thousand marriages and counting.
Father Richard has a vision of his own – to bring Knock into the twenty-first century. The charismatic, outward-looking Parish Priest is on a mission to entice new transatlantic visitors via Knock Airport.
With references to "the scandals", falling church attendances, and the modernisation of the shrine and the village itself, 'StrangeOccurrences in a small Irish village' presents a timely reflection on the position of the Church in modern Ireland. For the faithful it celebrates a beacon of spiritual hope; for sceptics it opens an enticing window on ananachronistic but thriving world.
Fresh from a successful five week run in cinemas nationwide, Underground Films' producer Lindsay Campbell says "we're delighted the DVD is now available – bringing the film to a brand new audience.There are so many intriguing and engaging stories in Knock, and we're excited to include some great new ones in our DVD extras."

'Strange Occurrences in a small Irish village' is an Underground Films production in association with RTÉ and the Broadcasting Authority ofIreland in association with Shoot for the Moon and in association with Bord Scannán na hÉireann / The Irish Film Board.

'StrangeOccurrences in a small Irish village' is released on DVD on November 14th. See undergroundfilms.ie for details.

Facebook: https://www.facebook.com/knockfilm/ www.undergroundfilms.ie
Twitter: @UGfilms #StrangeOccurrences #KnockFilm