Great Turnout for Screenwriting workshop with David Keating
10 October 2016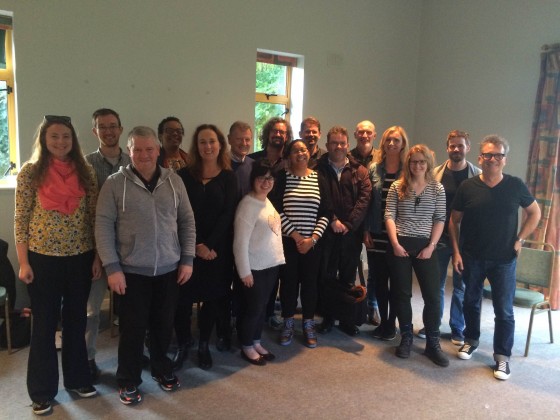 "Thanks for putting on a great workshop . David really knows his stuff and I really enjoyed meeting the other writers, I found it really engaging and learnt a lot from taking part in the day"
Film Mayo were delighted with the screenwriting workshop with critically acclaimed feature film director, screenwriter, producer and project mentor, David Keating. The screenwriting workshop took place on 5th of October 2016 in Castlebar, Co. Mayo. Joined Up Screenwriting explored fundamental storytelling tools along with practical techniques for writing for the screen.
David Keating, Director and Screenwriter:
Director and screenwriter, David's writing includes work for Columbia/Sony Pictures and Jim Sheridan's script for INTO THE WEST.
David has directed three features films, THE LAST OF THE HIGH KINGS, (Miramax / IFB) with Jared Leto, Gabriel Byrne and Christina Ricci. WAKE WOOD (Hammer / IFB) with Aidan Gillen, Timothy Spall and Eva Birthistle. CHERRY TREE (MPI / IFB) — with Naomi Battrick, Anna Walton and Sam Hazeldene.
As a trainer and project mentor David has worked with Oxford University's Green Templeton College and Saïd Business School, Screen Training Ireland / IFB, the National Film School of Ireland, the Huston School of Film and Digital Media, the London Film Academy, Moonstone, Equinoxe, Media Development Morocco, and with Mira Nair's Uganda initiative MAISHA. With STORY CAMPUS he has been involved in training events in the UK with BAFTA, the East End Film Festival, and in Ireland for the Jameson Dublin International Film Festival.
What some of the participants from his screenwriting workshop in Mayo had to say:
"We learned a lot and found David very inspiring and affirmative and he has definitely helped us to develop our craft"
"Thank you for a very valuable day with David Keating"
"The workshop was truly inspirational! To have someone of David's pedigree was amazing, and the presentation and content was top class"
"David's enthusiasm and his ability to communicate his knowledge so effectively in a fun and insightful way was a joy to watch and I'm delighted to have been a part of it"