First Cut. Youth Film Festival.
4 February 2016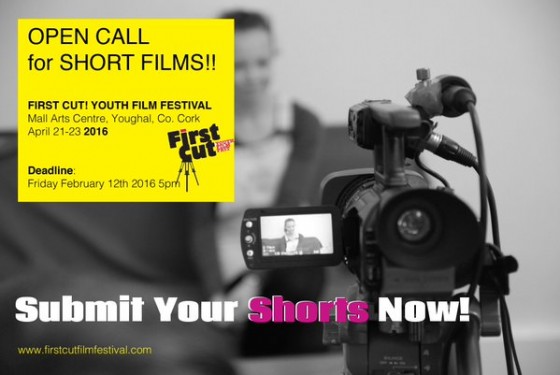 The Call for Entries to the First Cut! Youth Film Festival 2016 is open. The 7th edition of the festival will take place in April. The festival provides an opportunity for young filmmakers, age 12-24, to be part of a very exciting national and international Youth Film Festival which is supported by the Arts Council and Cork County Council.
First Cut! 2016 is again dedicated to screening short films made by young people. It's time to get submitting! Entry is free. An award for the best short film in each category will be presented. Filmmakers may enter individually or in groups. Music Video, animation, documentary, shorts made in schools, (new 'as gaeilge' category), and by 3rd level students in Ireland and internationally.
This year First Cut! will have a special category for schools in acknowledgement of the sheer amount and quality of film making taking place now in schools throughout Ireland, for many young people it is where they get the initial chance to make a film and indeed the opportunity in many cases to hone their craft.
We now offer an opportunity to young filmmakers to showcase their work, (Friday 22nd is Schools Day at the Fest) …a chance to have their short films screened at Ireland's only Pop Up film festival open to all local, national and international filmmakers under 24.
www.firstcutfilmfestival.com for all the entry information and form before February 12th