The Fireman and The Nurse screening in Ballina Arts Centre
24 October 2016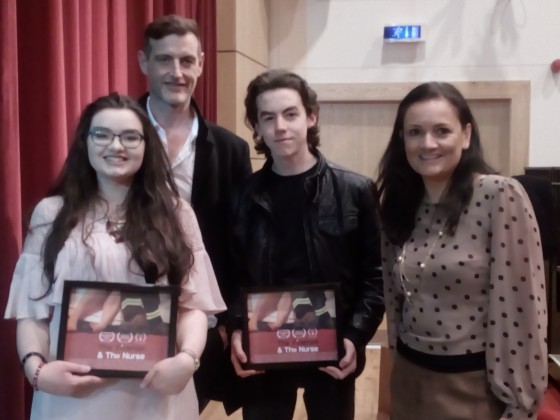 Writer/Director Gemma Doorly and Actor Tony Murphy were in Ballina Arts Centre last week to show a private screening of the award winning short film, The Fireman and the Nurse, to Mayo Youth Theatre who formed part of the cast of the film. Mayo Youth Theatre participants Vanessa Byrne and Adam O'Malley were presented with framed posters of the short. The Fireman and the Nurse was shot on location in Killala , Co Mayo in April 2016. The screening was followed by a Q&A.
Teenage nights can change lives forever. It's 1994 and Anna and Paul lock eyes and lips at their local school disco but it is a long way from then to the day-to-day of a suburban marriage. Twenty years later they seek some assistance to save their crumbling marriage and it leads them to play roles they had long dreamed of.
Funny and poignant, 'The Fireman and the Nurse' explores the nature of marriage and the lengths people will go to save their relationships.
Directorial debut from Gemma Doorly, Actor/Writer, IFTA nominated actress (A Song For Rebecca. Fair City) screenwriter for TV3/BBC series Red Rock and Producer Ronan Murphy (Engraved). Starring Bairbre O'Toole (Falling for a Dancer, Fair City) and Tony Murphy (Charlie Cassanova) and introducing talented young actors Adam O'Malley and Vanessa Byrne from the Mayo Youth Theatre.