Documentary call out for videos from people aged 15 & 34, view on being Irish
18 February 2016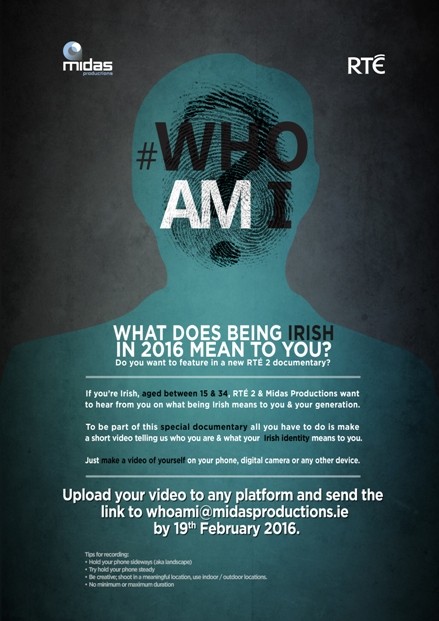 #Who Am I is a special one-off documentary to give an insight into what it means to young people (15 to 34 years old) to be Irish and living in Ireland in 2016.
As part of the documentary, Midas Productions want to hear the thoughts from as many young people in Ireland – and to do so, those interested can submit a self-shot video (filming on a phone, etc), with its duration from 30 secs to 4 mins, or however long it takes.
Ultimately it is whatever people want to speak about, what they feel is most important to them as a young person living in Ireland today.
Midas Productions would like viewpoints that range from the positive to the negative, the observational to the personal – anything that this age group has to say, they would like to hear.
Methods to Get Videos To Midas
There are some different ways to get the videos to Midas Productions. Some people are emailing the videos to the whoami@midasproductions
Other people are uploading them to YouTube, Facebook, or Instagram and sending the link to us at the same email.
Or people can use www.wetransfer.com to send us their video (without needing to sign up, you can send up to 2GBs of files for free).