Clare Island Film Festival This Weekend
13 September 2016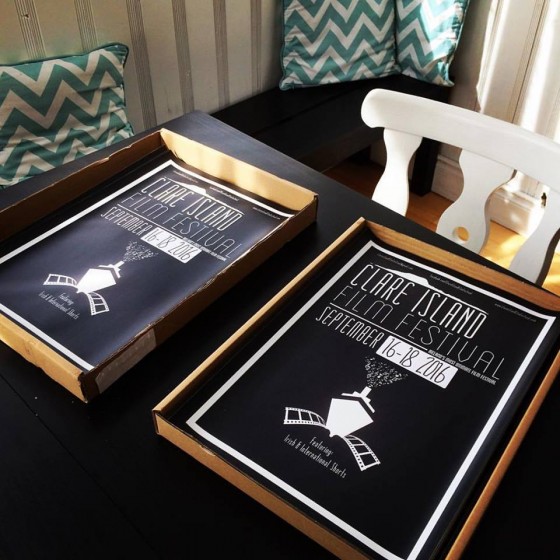 Full steam ahead for Island Film Festival!
All aboard for this fourth edition of the Clare Island Film Festival which takes place from September 16th to 18th
Events kick off on Culture Night Friday 16th September with the festival opening and screening of the award winning Irish documentary "ATLANTIC" at 8pm in the Community Centre.
Atlantic follows the fortunes of three small fishing communities - in Ireland, Norway and Newfoundland - bringing to the fore three very intimate stories from the global resource debate.
Filmed in some of the most remote and breathtaking locations in the North Atlantic, and at close quarters with some of the sea's most captivating characters, Atlantic brings to the fore three very intimate stories from the global resource debate. It explores how modern day communities must learn from the past, in order to secure a brighter future.
The connecting theme of the festival this year is community. It is no wonder being based in a small island community that the festival choose to explore and reflect on this theme from the local to the global. Fishing and sheep farming have long sustained Clare islanders so both feature films should resonate deeply.
Among the highlights will be a screening on Saturday night of the award winning Icelandic film, RAMS. Brothers Gummi (Sigurður Sigurjónsson) and Kiddi (Theodór Júlíusson) haven't spoken in 40 years. Both men are sheep farmers in the starkly beautiful Icelandic countryside; neighbours in a small community, they are rivals in all things, especially the annual hotly contested competition for best ram in the valley.
Life is far from easy; the community lives in constant fear of the dreaded scrapie disease (BSE) appearing in their flock, which if detected could destroy their livelihoods forever. When Gummi suspects the illness has infiltrated Kiddi's herd, he is forced to choose between what he knows is the correct course of action, and his familial ties, however deeply repressed.
Featuring two superbly expressive, largely non-verbal performances from its lead actors, Rams is an acutely observed humanist fable that comes laced with an agreeably astringent sense of humour.
"Beyond farming, there is something special about sheep," says writer-director Grímur Hákonarson, adding: "Most farmers I know have a stronger connection to sheep than to other domesticated animals."
The remainder of the screenings will be a feast of easily digestible shorts. The shorts screening slots will be 60 to 90 mins long each, which will hopefully encourage people to hop on the ferry and catch a few films over the weekend!
Each year the Clare Island Film Festival chairperson, Cora Keating, works on building links with other film festivals and organizations. This year she has collaborated with two notable Cork based organisations.
Paul Casey of Ó Bhéal: Cork's Weekly Poetry Event will return again this year to bring you a selection of the best poetry films from their 2015 competition run in partnership with IndieCork Film Festival. Paul will be joining us to present the programme and will host a short Q&A after the screening.
The second collaboration is with Chris O'Neill at The Triskel Arts centre in Cork city, who ran the inaugural Deep Focus: Women In Film festival last May. "It is not only timely but also long overdue to be hosting a festival dedicated to female filmmakers", says Chris O'Neill, head of cinema at Triskel. The Deep Focus strand at CIFF will feature a selection of the best shorts from the Cork event.
Saturday night promises live music in the Sailors Bar from Hip Pocket Trio. Lining out as a powerhouse quintet on this trip to Clare Island, HPQ are exponents of jazz, soul, funk and blues delivered in a contemporary style with a nod to the past masters. Even if you can't make it out for the whole weekend why not pop over to the island on a day trip and join us for a screening.
SAT and SUN they will be screening lots of interesting short films in the BARD room. All screenings free and they would love to see you there!
For updates on our program keep an eye on our site www.clareislandfilmfestival.com and facebook page https://www.facebook.com/ClareIslandFilmFestival