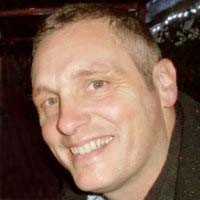 Owen Rohu - Background Artist/Matte Painter/Concept Artist
Profile
Owen Rohu is a Background Artist / Matte Painter & Concept Artist working in the Animation & Gaming industries. Currently, he is working as a freelance Lead Artist creating environments for Disney gaming platforms including Star Wars, Epic Mickey & Kingdom Hearts.
He has extensive experience in animation, having worked for Walt Disney, Twentieth Century Fox Animation Studios & Don Bluth Studios, among others. Credits include the acclaimed feature films 'Anastasia' & 'Titan AE' as well as 'The Lion King 2', 'Jungle book 2', 'Peter Pan', 'All Dogs go to Heaven II' and 'The Pebble & the Penguin'.
He has worked in Pre-production on T.V. animation series such as 'Teenage Mutant Ninja Turtles', 'Speed Racer' & 'Budgie the Helicopter'.
Owen is also an accomplished oil painter, with paintings held in private collections in the U.S.A., Australia & the U.K. His work is also held in public collections such as the E.S.B. & the Office of Public Works. He has been involved in numerous exhibitions, with a number of sell out solo shows.
Owen is happy to discuss any new opportunities. For more information contact owenjrohu@gmail.com
Credits
Anastasia - Background Artist
20th Century Fox Animation
Jungle Book 2 - Background Artist
Walt Disney Animation
Titan AE - Background Artist
20th Century Fox Animation
Contact