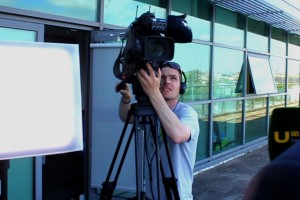 Fergus Sweeney - Camera and general production
Profile
With twelve years industry experience as a Camera operator Fergus has worked on many productions throughout Mayo and Ireland, from feature length documentaries and film to news gathering and general television programing .
Due to his geographical location he finds himself working in very rural parts of the country and often filming in harsh elements but loving the challenges from day to day, living and working in North Mayo he never finds himself stuck for inspiration from the people and the landscape.
Credits
The Daisy chain (2008) - P.A and Lighting department

The Pipe the film (2011) - Additional Camera

Thalassa Les tempêtes France 3 (2013) - Camera assistant / fixer.

Contact
Video/Showreel